Fil Kamps
Job title Football
Employer Mintridge Foundation
Fil Kamps is a retired international football player and Olympian who has competed in 10 countries across 4 continents.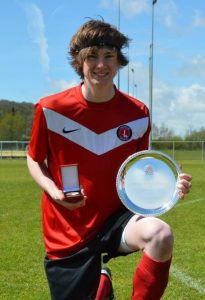 Fil first started playing football at the age of four and went on to represent his county before signing for Charlton Athletic in 2012. The Addicks went on to win the English Deaf Football League and the British Deaf Plate before Fil transferred to Fulham in 2013. In his 3 years at the club Fulham won the English Deaf Cup, British Deaf Cup and British Deaf Plate, he also competed in the European Champions League 3 times, reaching the semi-final twice. Fil was also an integral part of the Great Britain squad that reached the quarter-finals of the 2016 World Cup in Italy.
Shortly after the World Cup, Fil moved to the USA to continue his football career and his educational studies in Tennessee where he played for the King Tornado and earned his MBA. 2017 saw Fil continue to compete internationally, representing Great Britain again at the 23rd Deaflympics in Samsun, Turkey where they reached the quarter-finals. Fil signed for Doncaster for the 2017/18 campaign and achieved success yet again, winning the British Deaf Cup and reaching the European Champions League final in Milan.
What does it take to forge a professional playing career in sport?
It takes passion, sacrifice and resilience. It is a long and hard road to walk, only if you truly love what you do and are willing to sacrifice everything else to achieve it will you be successful at the highest level. Talent won't get you there, but the right mindset will!
My favourite manager was Ayad Sarraf, he understood how to bring the best out of me mentally and helped build a resilience within myself that served me well in my career.
Your advice to young people on how to achieve success…
Motivation: I think motivation comes quite naturally when you're doing something you're passionate about and enjoy. However, if you do feel low on motivation, remind yourself why you started on this journey. You were once a young boy/girl with a big dream to play for professional sport and you are working well towards achieving that dream.
Confidence: If you don't believe in yourself, how can anybody else? Train like you're second best, but play like you're a champion. Own the pitch.
Fitness: Preparation is so important. When games get tough late in the second half, it's easy to see who has been cutting corners in the gym and on the training pitch. Set yourself up for success in the week, and deliver on the pitch!
Nutrition: Think of your body as a high-end performance race car. The food we eat and fluids we drink are the fuel for our body/car. You wouldn't go putting diesel into a petrol race car, so don't eat too much junk food and drink soda. Fuel your body for competition.
Advice for Young Athletes Attending a Trial…
What an opportunity! A chance to shine. All of that hard work and preparation has provided you with this opportunity, take it. Fortune favours the bold, so take chances, play your game and be confident in your ability.
Best advice you were given?
Whether you become the best player in the country or the worst is up to you. In other words, you determine your outcome through the work you're willing to do.
Fil Kamps is an Ambassador for The Mintridge Foundation a registered charity dedicated to enhancing life skills in young people through sport. They provide a support network for young people by harnessing the power of positive sporting role models. For more information on how they can support your sports programme visit their website.
Mintridge Foundation Directory
More advice on how to become a professional sports athlete…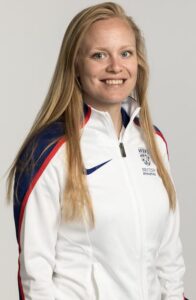 Gymnastics – Grace Harrison
Judo – Nekoda Davis
Hockey – Shona McCallin MBE
Wheelchair Basketball – Jordan Jarrett Bryan
Cricket – Patrick Foster
Trap Shooting – Georgina Roberts
Archery – Danielle Brown MBE
Athletics – Iona Lake
Basketball – Marko Backovic
Sailing – Hannah Diamond
Climbing – Molly Thompson-Smith
Athletics – Laura Sugar (left)
---