Laura Sugar
Job title Hockey, Athletics (para) and Paracanoe
Employer Mintridge Foundation
Laura was born with Talipes (club foot) and her parents were told that she would be fine and would lead a normal life as long as she didn't want to be a sportsperson. But as a child Laura had a real passion for sport and gave everything a go and her foot adapted well, enabling her to play sports. Laura's focus was hockey throughout her latter school years until she watched London 2012 and saw some athletes with the same condition as her competing. Laura researched and realised that she too would be able to compete. She had always had a fond love of athletics but due to competing against able bodied athletes, she felt stronger at hockey and therefore pursued that. 
Laura was selected for the Welsh U17 hockey team and progressed through the age groups to U18, U21 and senior teams. She proudly captained her country at U21 level and gained 16 senior caps overall and notable achievements include European Indoor Silver medal (senior), European Indoor 4th place (senior), U18 & U21 European Championships and being selected for the Senior team to play in the World League tournament.
She switched to athletics at the age of 22 after realising that her disability was a 'category' at the Paralympics. Laura completed at the Paralympic Games in Rio in 2016 and was ranked 2nd in the world. Laura is now training to compete at the Tokyo Olympics but this time aiming to compete in the paracanoe.
Laura is not only very well placed to provide advice to young athletes on what is required to participate in professional sport but also guidance on how to reach the top in not one but three sports!
What does it take to forge a professional career in sport?
I think the first thing is that you have to love your sport, you're not going to take the time to practice and train as hard as you need to if you don't enjoy it. Secondly you need to be coachable, no one is ever the complete athlete, the best are ones that are always learning and practising technique to improve. Always ask questions from your coach to understand WHY certain techniques/skills are better and then it is easier to apply to your sport. Never giving up is key, development is different for everyone and you can think you're never going to get there and then something clicks, also every successful athlete you see has had setbacks, they were just the ones who don't give up and that's why they make it!
Your advice to young people on how to achieve success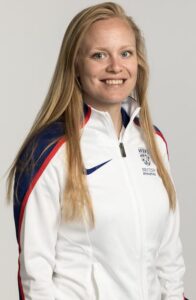 Motivation: Motivation is easy when you are doing well, its when things aren't going so well that you are tested, that's when you can make it or break it. Remember why you got into sport and your goals, plus always remember the positives, motivation comes from loving the sport and wanting to do well.
Confidence: Again you have to have confidence in yourself to help you get better, this always comes in waves, some days I'm very confident and others not. You have to trust the process and training and if you do all the hard work in training you cant hep but be confident in yourself.
Fitness: Fitness is key to development, but its always relative to you, some sports require more strength or agility so its knowing your strengths and enhancing them as well as your weaknesses. It's also key to help with injury prevention, you may be naturally fit and get away with not doing much extra however priming your body to be able to cope with the demands of your sport really helps you perform to your maximum.
Nutrition: Food is fuel, so you need to put into your body good fuel in order for it to perform well, a healthy balanced diet is key. It all depends on your training as to specific nutritional requirements, however you can tailor your food to what yes of training you are doing each day.
Advice for young athletes attending a trial
Attending a trial can be nerve wracking, however you can use them to fuel you, adrenaline comes with nerves and often brings the best out in you so think of them as an advantage and use them. Trials are an opportunity so go out and grab the opportunity, don't hide away and expect to be seen, get out there and show them what you've got, not just in your sport but as a team mate and as a coachable player (you're not going to be the best straight away but if you have talent and you are coachable that will be seen as a great thing by coaches).
Best advice you were given?
Say yes to opportunities, you never know what will come of them, you will either get something great out of it or you will learn from it.
Laura Sugar is an Ambassador for The Mintridge Foundation a registered charity dedicated to enhancing life skills in young people through sport. They provide a support network for young people by harnessing the power of positive sporting role models. For more information on how they can support your sports programme visit their website.
Mintridge Foundation Directory
More advice on how to become a professional sports athlete
Football – Fil Kamps
Gymnastics – Grace Harrison
Judo – Nekoda Davis
Hockey – Shona McCallin MBE
Wheelchair Basketball – Jordan Jarrett Bryan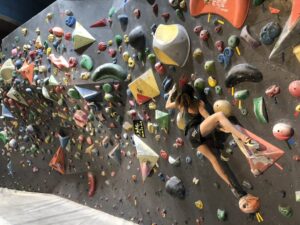 Cricket – Patrick Foster
Trap Shooting – Georgina Roberts
Archery – Danielle Brown MBE
Athletics – Iona Lake
Basketball – Marko Backovic
Sailing – Hannah Diamond
Climbing – Molly Thompson-Smith
---