Nekoda Davis
Job title Judo
Employer Mintridge Foundation
Nekoda Davis is a Judoka who competes regularly for Great Britain in the -57kg category. Since taking up Judo at age 6, Nekoda has gone on to reach the highest level of the sport, becoming a multiple British Champion and competing at tournaments all over the world.
Her dedication and determination has led her to a series of great results in her career so far, including a Gold medal at the 204 Commonwealth Games and a Silver medal at the World Championships in 2018. Nekoda represented Team GB at the Rio 2016 Olympic Games and is now aiming for the Tokyo Olympics in 2021. Here she outlines her advice to young athletes aspiring to achieve a career playing professional sport.
What does it take to forge a professional career in sport?
Hard work and dedication, it takes getting up after every knock back too! You have to enjoy what you do and be willing to get past the hard moments where it's not as enjoyable! Overall, the good always outweighs the bad and nothing feels better than winning when you've put the work in!
Your advice to young athletes on how to achieve success…
Motivation: You won't feel like getting up and training everyday but take the first step and the rest will follow. Make every session count! Don't just go through the motions!
Confidence: The worst that can happen is that you fail or you lose. Don't look at it as a negative look at every set back as a chance to make a better comeback. Trust in your ability and the rest will follow.
Fitness: Use it or lose it, we can't all be the most talented but we can try our best to be the fittest! Let hard work beat talent alone.
Nutrition: It's important to fuel your body correctly, if you are training right then give your body what it needs to maximise those gains! A weight-controlled sport can be tough so getting the right knowledge is important. Listen to your body and try not to worry too much about what category you are in! 
Advice for young athletes attending a trial…
It can be a daunting task being judged on your ability to perform under pressure, Pressure equals nerves, nerves equals feelings of discomfort and a lack of enjoyment. Try to normalise the trial and tell yourself this is something you do all the time. Just do your best and nobody can ask any more of you. Confidence is key.
Best advice you were given?
Small steps, hard work and integrity! Don't rush the process, just trust that the process will get you to where you want to be. I love that I've been able to look back on my progress and see that I set a goal that took time to achieve but, eventually I got there through hard work and determination.
Nekoda Davis is an Ambassador for The Mintridge Foundation a registered charity dedicated to enhancing life skills in young people through sport. They provide a support network for young people by harnessing the power of positive sporting role models. For more information on how they can support your sports programme visit their website.
Mintridge Foundation Directory
More advice on how to become a professional sports athlete…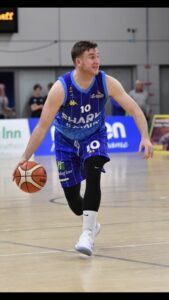 Football – Fil Kamps
Gymnastics – Grace Harrison
Hockey – Shona McCallin MBE
Wheelchair Basketball – Jordan Jarrett Bryan
Cricket – Patrick Foster
Trap Shooting – Georgina Roberts
Archery – Danielle Brown MBE
Athletics – Iona Lake
Basketball – Marko Backovic
Sailing – Hannah Diamond
Climbing – Molly Thompson-Smith
---