Shona McCallin MBE
Job title Hockey
Employer Mintridge Foundation
Shona McCallin, began playing hockey at the age of six and has since found herself on a rapid ascent through the ranks of elite international players. McCallin made her International debut on England's U16 squad.
By the age of 14, having participated in multiple sports throughout her childhood, Shona made the decision to focus on hockey, rather than football, as her evolution as a player began to advance. Looking back, she feels certain that her multi-sport involvement was a great benefit to her growth as an athlete, both physically and mentally.
At 15, with an eye squarely on the sport she loved most, the acceleration up the International hockey ladder was almost immediate. From the English U16's, U18's and, ultimately, as the captain of the England and GB U21's, Shona developed a reputation for being a driving force in the midfield. Scoring 13 goals and multiple medals along the way, Shona's success included leading England to its highest-ever finish at the Junior World Cup in 2013.
McCallin has now blossomed into a senior level international. She achieved her 50th combined international appearance for Great Britain and England during the Rio Olympic Final, a historic night for Great Britain Hockey. The team created history and won Great Britain's first ever Olympic Gold medal in women's hockey with over 9 million people watching on BBC 1.
Here she outlines her advice to young athletes with aspirations for a career playing professional sport.
What does it take to forge a professional career in sport?
Commitment, dedication, experiencing setbacks and overcoming then, missing out on a lot of things, hard work, dealing with pressure.
Your advice to young athletes on how to achieve success…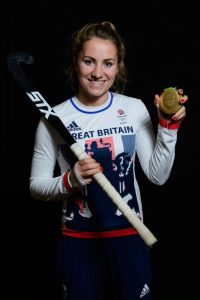 Motivation – You and only you can bring the drive needed to succeed in sport. You need to be motivated. You can't rely on others to motivate you all the time.
Confidence – Be prepared to work on this. Top sport is a mental game with confidence being a large component of this. Confidence just doesn't go and just doesn't come. It's a process. You can learn to build your inner confidence through mental skills. Work on this. You should be in control of your confidence levels – don't rely on external factors such as coaches, team mates, results etc.
Fitness – The fitter you are, the easier your sport will be. Aim to be the fittest you can be. If you think you're tired, you can always do 1 -2 more reps. Try train with a partner to push each other!
Nutrition – Eat well but be human about it. Eat well 80% of the time and 20% let yourself be human. Make sure you eat fulfilling meals, a mix of protein, carbohydrates, fats, vitamins and minerals.
Advice for young athletes attending a trial…
See it as an opportunity to show all the hard work you've put into your sport. Work hard, speak up, ask questions, give it your all and you'll leave with no regrets.
Best advice you were given?
Train hard so matches are easy.
Shona McCallin MBE is an Ambassador for The Mintridge Foundation a registered charity dedicated to enhancing life skills in young people through sport. They provide a support network for young people by harnessing the power of positive sporting role models. For more information on how they can support your sports programme visit their website.
More advice on how to become a professional sports athlete…
Football – Fil Kamps
Gymnastics – Grace Harrison
Judo – Nekoda Davis
Climbing – Molly Thompson-Smith
Wheelchair Basketball – Jordan Jarrett Bryan
Cricket – Patrick Foster
Trap Shooting – Georgina Roberts
Archery – Danielle Brown MBE (pictured left)
Athletics – Iona Lake
Basketball – Marko Backovic
Sailing – Hannah Diamond
---