Marko Backovic
Job title Basketball
Employer Sheffield Sharks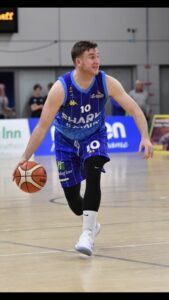 Marko Backovic started playing basketball at the age of 10 and is a British Serbian professional basketball player, who is currently playing for Sheffield Sharks (winners of the BBL in 2016). Marko took up basketball at Stocksbridge High School and quickly rose through the ranks at Sheffield Junior Shark and into the England and Great Britain national teams.
After impressing at his first tournament, the coach of the Sheffield Sharks academy (Junior Sharks) invited him to come and train with the u13 team at just 10 years old. At the 12 years old he was selected to represent Yorkshire at the "regionals" at Lilleshall. From there, he was selected for an England u15 training camp at 12 years old. At 16, while still in year 11, he made his first appearance for the Sheffield Sharks first team against Newcastle Eagles in a BBL play-off game. Here he offers advice to aspiring young athletes on how to forge a career playing professional sport.
What does it take to forge a professional playing career in sport?
I'm often asked how to become a basketball player and I say enjoy the process but it requires lots of sacrifice and dedication.
Your advice to young people on how to achieve success…
Motivation: If you find a sport you love, the motivation to get better will come naturally. Don't focus on becoming professional – just focus on getting better at what you love.
Confidence: Never get too high during the good times, and never get too low during the bad. You're always going to have ups and downs – always have a next game mentality no matter what.
Fitness: Make it as fun as possible by trying to do it alongside your friends. Depending on the sport, try and increase fitness by simply playing the sport a lot! Fitness is key though. Often, the fitter you are – the better you are!
Nutrition: Find a diet that works for you, keep it simple and sustainable.
Advice for Young Athletes Attending a Trial…
Play your game as if no one is watching. Enjoy it. The results will follow.
Best advice you were given?
Never forget you get paid to do something that you would do for free – so enjoy every day.
Marco Backovic is an Ambassador for The Mintridge Foundation a registered charity dedicated to enhancing life skills in young people through sport. They provide a support network for young people by harnessing the power of positive sporting role models. For more information on how they can support your sports programme visit their website.
Mintridge Foundation Directory
More advice on how to become a professional sports athlete…
Football – Fil Kamps
Archery – Danielle Brown MBE
Judo – Nekoda Davis
Hockey – Shona McCallin MBE
Cricket – Patrick Foster
Trap Shooting – Georgina Roberts
Gymnastics – Grace Harrison
Wheelchair Basketball – Jordan Jarrett Bryan
Cricket – Patrick Roberts
Athletics – Iona Lake
Sailing – Hannah Diamond
Climbing – Molly Thompson-Smith
---