Jordan Jarrett Bryan
Job title Wheelchair Basketball
Employer Mintridge Foundation
Jordan played Wheelchair Basketball for 15 years, captaining the GB Junior side during 2 European Championships and World Championships in 2006. He played professionally for 4 years in the Italian league, winning a championship in the process.
However, it is his work as a reporter and editor that he's best known for. After a successful period as editor of Live Magazine, ATM Magazine and a stint as a radio DJ with the BBC, Jordan got the chance to fulfil his ambition of becoming a sports reporter when he was recruited to be one of the faces of the award-winning Channel 4 coverage of the 2012 Paralympic Games. Jordan reported on the Wheelchair Basketball. This led Jordan to becoming a sports reporter for Channel 4 News and he can be seen or heard most weekends on the programme, reporting on a broad spectrum of major sports stories and events.
What does it take to forge a professional career in sport?
It takes many things to become a professional athlete but three main things, I'd say, are ambition to want to be the best, technical skills and luck.
What advice would you tell young people with an interest in playing professionally in your sport?
Motivation: This has to come from within, or you'll only go so far. You have to have the drive to want to win and at all costs.
Confidence: With no confidence, you're going to struggle to win in any area of life. You have to believe that you're the best player on the court the moment you step on it. Confidence
comes from inner belief, that is born from practise and practise and means when it's time to deliver you know you can and will – there's not an ounce of doubt.
Fitness: I believe there's two things that separate those who win and those who are winners/greats. The first is mentally performing under the most pressure. The other is the physical condition you are in. If you look at the greatest athletes of all time, 90% of them tick those boxes. Federer, Jordan, Woods, Williams, Lomuh, James, Lewis, Ennis Hill, Ronaldo, Hamilton, Messi and Tendulkah. All supreme athletes who made sure it was their life's work to be in the shape that meant they could compete at any time.
Nutrition: Being a supreme athlete isn't just about running laps or lifting weights – it's arguably now more important what you eat. Hitting the gym will give you medals; the right nutrition will give you longevity.
Advice for young athletes attending a trial?
Never forget to enjoy it, despite the pressure and also never forget to trust yourself and skills. They have invited you there for a reason – they want you and rate you. They want you to win, so don't feel like they're against you. Do what you've always done and don't try to impress, as weird as that might sound.
Best advice you were given?
Two things; always remember to respect yourself and the sport. And always remember to try and win – not try and not lose there is a difference.
Jordan Jarrett Bryan is an Ambassador for The Mintridge Foundation a registered charity dedicated to enhancing life skills in young people through sport. They provide a support network for young people by harnessing the power of positive sporting role models. For more information on how they can support your sports programme visit their website.
Mintridge Foundation Directory
More advice on how to become a professional sports athlete…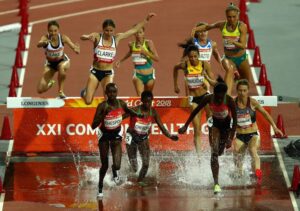 Football – Fil Kamps
Gymnastics – Grace Harrison
Judo – Nekoda Davis
Hockey – Shona McCallin MBE
Cricket – Patrick Foster
Trap Shooting – Georgina Roberts
Archery – Danielle Brown MBE
Athletics – Iona Lake
Basketball – Marko Backovic
Sailing – Hannah Diamond
Climbing – Molly Thompson-Smith
---