Careers in Sport deliver a range of careers in sport presentations. We have delivered talks to year 8 pupils on the benefits of an active lifestyle, as well as presenting to GCSE, BTEC and A Level sports students on the diverse opportunities in the sport and fitness sectors.
We offer a bespoke service to meet the school/college objectives, so please contact us to discuss how our careers in sport presentations can support your pupils.
Our range of half (3 hours) and full (5 hours) day 'hands-on' workshops ask students to work in small teams on a variety of tasks.
Mock situations are created for students to experience a range of different roles in the sports industry and culminate in a presentation to showcase their product and/or service.
Delivered by Nick Judd, a qualified sports journalist, who has been working in publishing for more than 16 years and has worked with some huge brands including Manchester United, Castrol, BUPA and the Football Association.
A fast-paced and evolving industry, the opportunities in sports media are limitless and constantly changing. From multiple platforms – print, digital, radio or television – to broader communications roles, working in sports media can be thrilling, and students have an opportunity to take a closer look at the action and create media content from previous match day action.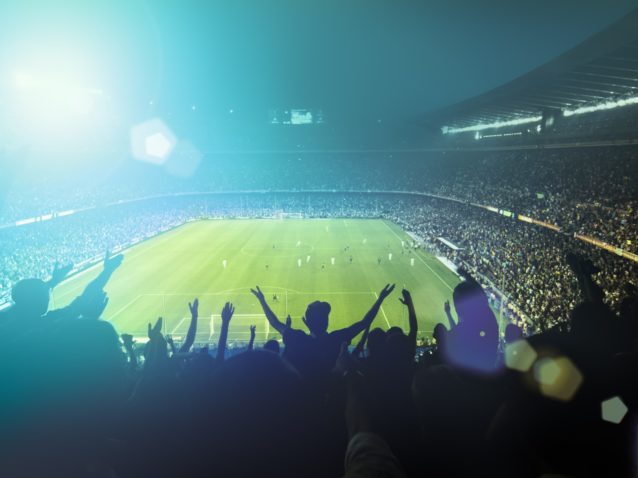 Delivered by the Business Development Manager of Careers in Sport.
Two business workshops are available.
Students review the commercial structure of a sports business. They then review a variety of product and service ideas and in small groups create a business plan to take their product/service to market.
Students review the commercial structure of a professional sports club. They then create their own mock sports club/team and consider the sponsorship and marketing requirements to increase fan engagement for the upcoming match day.
Delivered by Harvey Grout, qualified secondary teacher of Physical Education before progressing to become Graduate Certificate in Education (PGCE) Tutor in Physical Education in Higher Education. Harvey was recently awarded a Teaching Fellowship from the Higher Education Academy.
The workshop is a fun, practical and motivating way to teach students leadership skills. Students participate in a range of games and activities and consider the STEP principle.
Students then design and deliver a practical sports session with the aim of creating a challenging and achievable learning environment for the participants.
A positive first step towards becoming a good leader in future situations.
A search on the UCAS website for 'sport' will promote over 1,500 degree courses for students to choose from whilst a search for 'football' will provide over 100 degree course options!
University is an exciting and challenging opportunity for many. Choosing where to study and what to study can be a difficult decision with many variables for students to consider.
As the university dropout rate increases this presentation will encourage students to make informed choices for their studies.
Option to also deliver 'Writing a personal statement for UCAS' presentation.
This presentation will provide a focus on sport degree options, but the content is suitable for all Year 12 and 13 students considering applying for university.
Students consider their values, likes and interests and use these reflections to help them find their desired career path. We then review the current job opportunities available in the sport and fitness industry and review the process for successfully being selected for the position.
A curriculum vitae is the chief way to sell yourself on paper.  Success depends on how far it meets the job criteria, background and bias of the person reading it. We provide useful tips to equip your students with the best Curriculum vitae.
The final aspect of the workshop is interview preparation and the option to conduct mock interviews is available also.
Careers in Sport and Fitness – Presentation
Careers in sport presentations are delivered to Year 7 to 13 students and can help answer questions such as:
What are the diverse careers available in the sport and fitness industry?
What experience and qualifications are required for each profession?
What skills can I establish a successful career in my preferred profession?
The presentation provides a review of the professions available within coaching/teaching, sports science, sports business, sports media and health and fitness.
Interactive activities engage students to consider the essential and desirable attributes required to achieve their career aspirations.