May 2012 was a month to remember for York City. The Minstermen lifted the FA Trophy and then regained their EFL status after securing promotion from the Conference via the play-offs.
But for Charlie Binns, it was the start of a new career path away from the club, having been released at the completion of his apprenticeship.
Since then, the 26-year-old has forged his way back into the professional game in a different capacity, working as a Performance Nutritionist at Birmingham City, as well as founding his own CMB Performance and Nutrition consultancy business.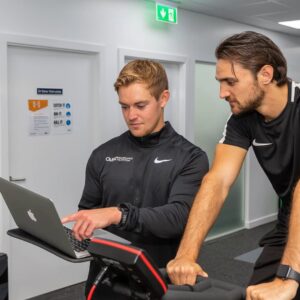 "The apprenticeship certainly gave me valuable skills that have helped my transition after playing, in particular learning how to conduct myself in an elite environment," Binns told LFE. "I became a lot more professional during those two years, which enabled me to push on in a different career.
"As a Nutritionist, I employ a multidisciplinary approach. I work closely with players, physios, coaches, psychologists, chefs, strength and conditioning coaches and so on.
"Obviously, you need to know the science around nutrition, but having the ability to build a rapport is vital when working with people from so many different sections of the club.
"Generally, you're looking at how a player is doing in training and on a matchday and analysing whether he is feeling fatigued, if he needs a bit more of a presence and should add weight, or if he needs to lose a bit of bulk to enhance his performance. It's always different with every player.
"When I was an apprentice 10 years ago, there wasn't so much investment in learning how nutrition impacts performance. Nowadays, clubs are taking it much more seriously, hiring part-time or full-time nutritionists, and players are more interested in how it can maximise their potential, too."
Binns' route into this area began in 2015 when he enrolled onto the Sport and Exercise Nutrition degree course at Leeds Trinity University, earning first-class honours.
While continuing to play at non-league level, Binns studied a Master's degree in Applied Sports Nutrition at St Mary's University, Twickenham, as well as qualifying as a UK Anti-Doping (UKAD) accredited advisor and achieving an ISAK Level 1 award in Clinical Nutrition.
"It was never my plan to go to university until I looked further into sports nutrition and becoming a nutritionist," he said. "I was just a steady college student, but when I got to degree level and it was something that I was 100 per cent interested in, I excelled at university.
"It took me a couple of years after being released to figure out what I wanted to do, so I would advise apprentices, especially second-years, to have a real good think about their interests outside of football and what the best route to pursue that is.
"Obviously, there is a bit of work to put in, but if you're passionate about the subject that you are doing, you won't have any issues because you will be so invested in the work. If you're willing to put enough effort in, you'll reap the rewards."
The York academy graduate, who benefited from PFA bursary funding, landed a Nutritionist role at rugby league club York City Knights in May 2019 before joining the staff at Birmingham City a few months later, working with the club's senior and academy players, including Borussia Dortmund and England star Jude Bellingham.
"I work with the Birmingham players a couple of days a week, doing one-to-one consultations to see how they are getting on with their diet," said Binns. "Every player has their own individual goals, so it's interesting to find the right plan for all of them.
"The players have breakfast and lunch at the club, so it's vital that I'm in close contact with the head chef, so that he knows what to cook and when to cook it. It's also important to educate the players on their food and nutrition structure, so that they're aware of what their body needs when they're away from the club's supervision.
"Academy players are more difficult than the senior guys because they're still growing. You don't want them to be on a calory deficit as that's just going to make their bones a lot more brittle. They have such a hectic schedule, fitting in school and training, so the key is to devise a programme that ensures they're taking on enough calories.
"I worked closely with Jude when he came into the first team as a 16-year-old and we wanted to add a bit of weight to him. He took everything on board and obviously it's worked well. That's the best part of the job. It's a very small factor in his success, but you feel like you've contributed to his journey to the top."
Alongside his club commitments, Binns is now providing his services through CMB Performance and Nutrition, where he offers online and –face expertise to a range of clients, in and out of sport.
As well as creating bespoke nutritional plans, he has also developed a recipe service, available via subscription, and delivers talks and workshops, with a strong focus on how healthy eating can improve mental well-being, in addition to physical performance.
"I've always wanted to start my own business and when the first lockdown came, I was able to commit all my effort into it," Binns added.
"I'm working with elite athletes, such as World Cup cricketers for England, a few individual professional footballers and then recreational athletes, like golfers, triathletes, cyclists and endurance runners.
"I also offer my services to sports teams and I really want to tap into businesses away from sport, too, because I think it's an untapped area, whether it's for office workers or people adapting to working from home.
"I think a healthy body equals a healthy mind. A lot of people think nutrition will just help you physically, but mentally it helps you such a great deal. Eating healthily keeps you on top of your game, helps to optimise your stress levels and makes you and your skin look healthy.
"As an apprentice, I never thought I'd be able to start my own business. I still love football, but it's not at the forefront of my mind anymore.
"There are so many opportunities available to you away from the game, so if you have an interest in something else, then definitely have the confidence in yourself to go for it."
Charlie Binns was speaking to the LFE. The LFE was established in 2004 by The EFL and The PFA to deliver the Apprenticeship Programme to 16 to 18-year-old players at EFL clubs.
In partnership with The EFL and EFL Trust, LFE also delivers a CT Study Programme, offering 16 to 18 year-old (male and female) learners the opportunity to study sport-related qualifications, while representing their club at football or futsal.
https://careers-in-sport.co.uk/wp-content/uploads/2021/03/Charlie-Binns-consultancy.jpg
542
870
Harvey Grout
https://careers-in-sport.co.uk/wp-content/uploads/2022/05/cis-logo-300x136.png
Harvey Grout
2021-03-14 12:36:27
2021-03-14 12:37:58
Charlie Binns - Performance Nutritionist