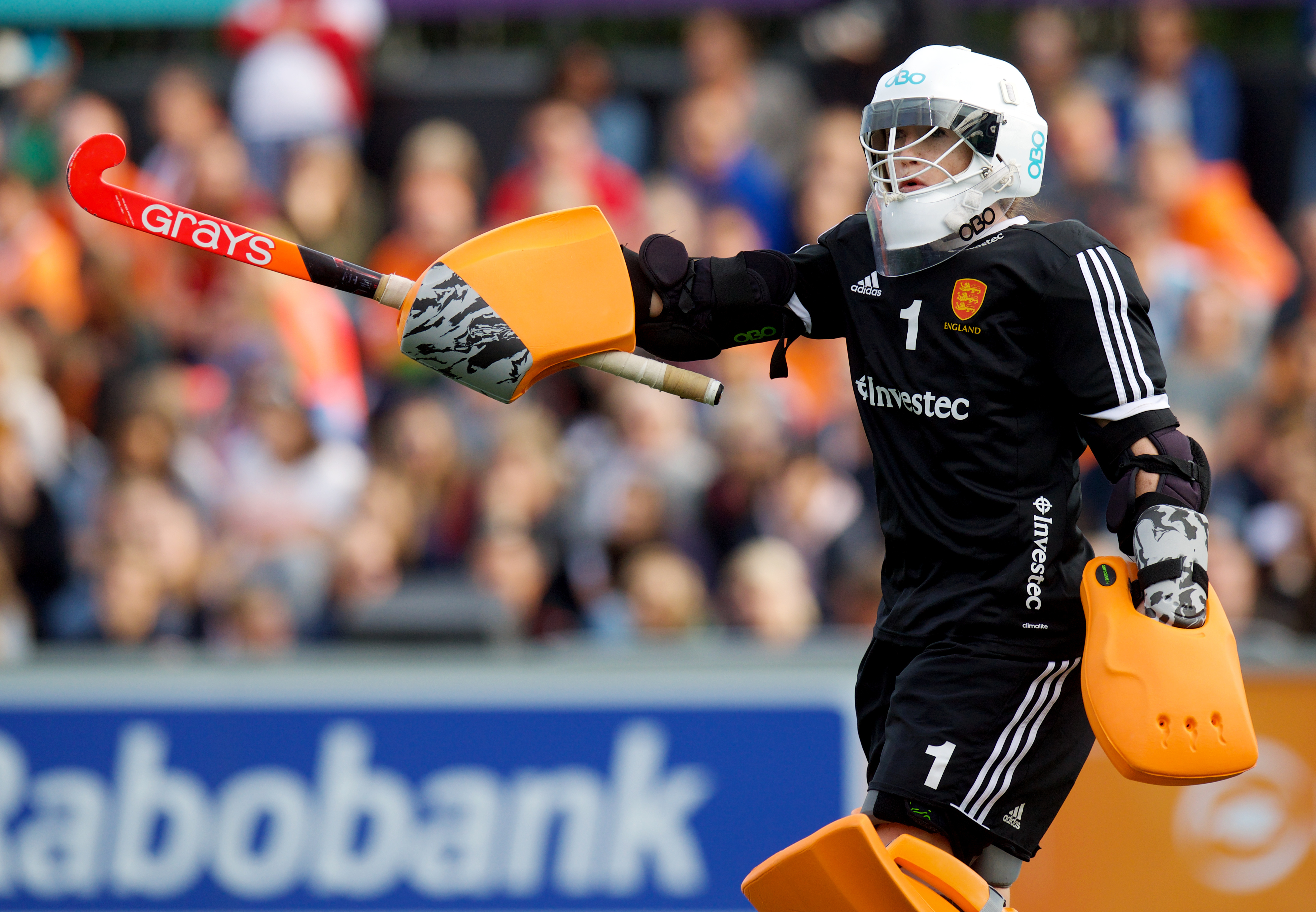 Maddie Hinch is a hockey goalkeeper, and a very good one at that. She's an Olympic gold medal winner, a two-time Player of the Year winner and she is now attempting to win a Commonwealth Games gold in Australia. Here. she tells Careers in Sport what makes a good goalkeeper, the importance of the backroom staff and why she's hoping to grow awareness of the game she loves.
Goalkeeper of the year again for the second time, how does it feel to be recognised as the best in the business?
To be named for the second year running was an incredibly special moment for me. Once was something beyond what I ever truly believed would happen – so for it to happen for a second year on the trot is pretty overwhelming, to be honest. I'm delighted but I just couldn't do it without my teammates. In front of me on the pitch and those that I'm surrounded by back at Bisham Abbey and my club Stichtsche in Holland. They give me confidence everyday to perform so I'm hugely grateful to everyone I have around me because I simply couldn't achieve these things without them.
Is gold the aim in Australia?
Of course gold in Australia is what we are targeting out here but at the end of the day it's also a hugely important tournament for our development as a group. We need to make sure that we make strides forward here. We don't want to leave Australia having not made any progress – especially with the home World Cup this summer just around the corner. I think the main focus has to be making process as a team and making strides out on the pitch. We'll take every game out here one game at a time and we believe if we can produce something towards our best it is more than capable of winning a medal, but we won't get too far ahead of ourselves for now.
How do you prepare for a big tournament mentally and physically?
Preparing for a tournament – I think my routine has become pretty consistent now over the years. I rely quite heavily on consistency. I like to know what works and doesn't work for me and I feel like I've been around long enough now to know what works and doesn't. For me, it's all about feeling. I want to feel good about how I'm playing. I want to feel good about myself. I want to be confident and I want to be looking forward to getting in the net. I know when I play at my very best I'm very relaxed. I feel very ready and then I just essentially go out there – knowing I've done all the hard work and can trust in that process. So for me I work incredibly hard off the pitch on both the mental side of my game with the psychologists, and physically in the gym I really try and push myself more than ever. So when it comes to tournaments I can say – 'right I've done the work – now I can just enjoy playing'.
"We believe that we are surrounded by the best people and they allow us to be in an environment that enables us to perform at out very best."
What's involved with something like the commonwealth Games/Olympics in terms of the team behind the team. Who goes, and what do they do?
There's a huge team behind the team. I think we have about ten members of staff out here. From the psychologists and physio, to the doctors, coaches and team manager. So there are lots of people involved in the group and essentially without them we can't do what we do. They make sure that every day is as stress free and as smooth as possible and we really trust in what they are telling us to do so we can then go out there and do the job we are here to do. We believe that we are surrounded by the best people and they allow us to be in an environment that enables us to perform at out very best.
Who have been the influential figures on your hockey journey?
My family have to be at the forefront of that. They have been by my side from the very beginning – I had a very up and down journey and they have been the people I could lean on and have always told me to keep going and not give up on what I truly believed I was able to achieve. I definitely couldn't have got to where I am now without their support. But I've also been really fortunate to have had some fantastic goalkeeper coaching along the way – Steve Bear when I was younger and then moving onto John Hurst leading into Rio, and now I'm coached by Martijn Drijver who is really challenging my game and pushing me to achieve so much more.
If you were to win, where would it rank alongside the win in Rio in 2016?
It would have to be right up there with Rio. A Commonwealth gold medal is something that's not been achieved yet by an English side and we're all about breaking boundaries and achieving the ultimate. It would be an incredibly special moment and to win it in Australia – at home they are going to be a force to beat, so if we can overcome that it would be so special and really keep hockey on the map. We're always trying to keep hockey out there and medals do bring that attention, so we'll be doing everything we can to bring back that gold.
What makes a good goalkeeper?
I believe the one thing that makes a good goalkeeper is self-belief. It's a unique position in that you're obviously part of the team but you are also by yourself – so you have a lot of time to spend thinking about your game and you can't let that impact your performance.  The difference between a good and a great goalkeeper are the ones that have really worked out the mental side of their game. They truly believe that they are better than there opposite number – that they will stop the ball and that's not an easy thing to achieve. So for me it has to be self-belief – it's the ultimate challenge for goalkeepers.
"We wanted to be the difference, create history and inspire the future and we did just that out in Rio."
Give us three tips to be a good keeper…
1. Agility
2. A "bounce back" ability  – in terms of mentality – you have to be able to let mistakes go immediately and move on.
3. Bravery – you have to be willing to put yourself out there – in positions, which are uncomfortable, but also willing to step up to the challenge in those big moments where the team need you.
Did you always want to play hockey? And as a goalkeeper?
No – I didn't! My Dad was in the Navy when I was younger so we spent a number of years travelling as a family, which meant I moved a lot from school to school. I've always been sport mad but I never ever focused on hockey until I went to university. Prior to that I was always just playing every sport that was available to me. It was only when I got to about 18 that I thought actually I might be able to go on and really achieve something here. As a goalkeeper – I was always encouraged in this role. I joined a school in the summer term, so we were playing rounders – and it was that teacher that insisted I get into the hockey goalkeeper pads for next term – apparently I was quite dramatic – diving around for the ball, so she thought it would suit my personality and I've not looked back!
In football they say you have to be a bit mad to be a keeper. Given that you're facing harder balls, the saying must apply even more so in Hockey?!
A lot of people say this…yes the balls are harder but I'm covered head to toe in padding! My teammates just have shin pads and gum shields! So I know which position I'd rather be in every day of the week. I think I'm actually one of the safest positions on the pitch!
Hockey exploded after Rio, with 10,000 people taking up the sport… you must feel proud at playing your part in that? And many have taken up goalkeeping…
It's definitely the case that after Rio it felt like the whole nation went a little bit Hockey mad! 10,000 new members across the clubs is just so cool – it's just everything we set out to achieve. We wanted to be the difference, create history and inspire the future and we did just that out in Rio. It's an incredibly exciting time to be involved in the sport – as this new group we're going to try and continue to inspire more and more people to keep playing the game we love so much. Goalkeeping in particular seems to have taken off as well – I was really fortunate in the final in Rio to have the opportunity to show what goalkeeping is all about these days. The game was very active for me and it meant I was able to show the level the position as gone to and how active it can be. It's great to see so many people now wanting to put the pads on. The amount of messages I get from teachers and schools saying they don't have enough kit for the demand – whereas before it was a struggle to get anyone kitted up. I find that incredibly heart warming that people understand the position more and want to give it a go.
"I'm covered head to toe in padding! My teammates just have shin pads and gum shields! So I know which position I'd rather be in!"
You have your own goalkeeping camp, how's that going?
I launched MH1 Coaching last summer and the response was overwhelming. We sold out all three days in less than 24 hours and the feedback was fantastic – people really enjoyed themselves. It was crazy to see hundreds of goalkeepers turn up for my camps and you could feel the buzz around where goalkeeping is at now. The amount of kids that said they had put the pads on for the first time after Rio… that's what it's all about for me. I'm really pleased with how it's going and I'm hoping to make it grow and more exciting every time. The demand for goalkeeping now is greater than ever and I want to help continue to grow that and get more and more people in the pads.
Are you interested in coaching when you have to hang up your gloves?
I don't think I would just coach – but that's why I launched MH1 Coaching – I always want to have some part in hockey – promoting the sport and getting more and more people in the pads.
Maddie Hinch is an Investec Hockey ambassador, Investec support women's hockey from grass-roots level through to the national team. For more information visit investec.co.uk/hockey 
https://careers-in-sport.co.uk/wp-content/uploads/2018/04/FFU_5394.jpg
2942
4247
Nick Judd
https://careers-in-sport.co.uk/wp-content/uploads/2022/05/cis-logo-300x136.png
Nick Judd
2018-04-05 10:59:46
2019-05-03 11:02:33
Maddie Hinch goes for Commonwealth Games gold!