Harriet Drudge
Job title Journalist (magazine)
Employer FourFourTwo Magazine
Qualifications Business Management Degree
Harriet Druge: Being a Sports Journalist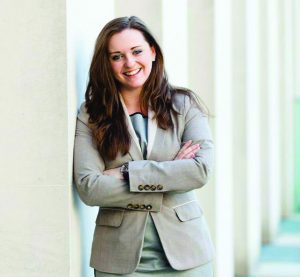 Being a sports journalist is a popular job choice amongst those looking to have a career in sport, and as this growth in desire for strong  journalists in the workplace has grown, some very exciting female journalists have emerged.
One of which is Harriet Druge, who spoke to us abot how she broke into the industry and also about her admiration for her other power females in the sports media industry.
Did you always want to work in sport, and particularly become a sports journalist?
Yes to always wanting to work in sport. No to always wanting to working as a sports journalist because I wasn't always aware it was an option. I've loved sport for as long as I can remember, so I knew I wanted to make it into a career in some way. I remember saying when I was about 10 that I wanted to be a PE teacher. With hindsight, I realise the main reason was because it was the only job relating to sport I had witnessed up close and personal. It wasn't until I started studying business at GCSE that I realised going into sport media - or the business arm of a football club - was an option.
How did you go about it: what qualifications/experience are required for sports journalism?
I considered doing a sports journalism degree but came to the conclusion that it would probably be a better idea for me to do something a little less 'niche', something that would provide me with a broader skill set should I one day decide that sports journalism wasn't for me. So I opted for Business Management at the University of Surrey, always with a plan to do sports journalism - specifically football journalism - as a hobby during my time at university. I was Sports Editor of a university publication (later Editor-in-Chief), an occasional co-host on university radio, and I volunteered for a football podcast in my spare time. I got a job as a PR and Comms internship at the Football Foundation, the perfect placement for me. It enabled me to get an insight into public relations and communications in football whilst also having the opportunity to write for publications like FC business, Shoot! and the Non-League Paper.When my internship came to end in July 2013, I had a couple of months to spare before heading back to university for my final year. A lot of my friends went on holiday but I used the time to gain more experience in sports writing, securing work experience at the Daily Mirror, the Non-League Paper and my local paper on the Isle of Wight.
What would you look for if you were recruiting someone?
Relevant experience, a portfolio of examples of work and most importantly... passion.
What's the best thing about working in sport?
Making a career out of your hobby is an incredible feeling; I wake up every morning excited about going to my job as a sports journalist, and spending every day with people just as passionate about sport as you are is awesome. Getting to go to games and behind the scenes of the interviews we do at FourFourTwo is also pretty special. I'm very lucky!
Do you feel there are more opportunities for women in the industry?
I think there are certainly more opportunities for women in the industry than there used to be thanks to positive role models and pioneers like Jacqui Oatley, but that's not to say there aren't still challenges and barriers to entry for women.
As a woman, do you think it's harder to make it in the sports media industry?
Without a doubt. Knowledge and passion is immediately assumed on the part of men in the industry but quite often questioned if you're female. The landscape is getting better thanks to organisations like Women in Football, Women in Sport and the Women's Sport Trust - stereotypes are being confronted, women's input celebrated, pathways opened and horizons broadened for young females wanting to break into what is an incredibly competitive field.
If you had one tip you could give to anyone looking to follow your path into the media industry…
Be persistent, because you'll undoubtedly experience knock-backs - I did. There were moments when I thought I just wasn't cut out for it because I'd missed out on a particular job, but my enthusiasm, passion and dedication to learn from mistakes helped me get to where I am today. It's your career - work hard from the start to make it what you want it to be. For more information on careers in sports media visit www.careers-in-sport.co.uk/sports-media/
---