Who Are Get Active
Get Active provide exciting and engaging activities to more than 10,000 children aged 3-16 in over 65 schools every week.
Established in 2004, Get Active Sports continue to deliver high quality PPA Cover, PE Tuition, Staff CPD, Extra Curricular Clubs, Active Care, Holiday Camps, Football Development, Apprenticeships, Fetes & Fundraising events and Parties to schools, parents & children across the UK.
We deliver more than 9000 activity sessions each month to schools across the UK. This amounts to more than 500,000 visits per year, enriching the curriculum in all of the schools we work in partnership with.
Our delivery, training and ethos are carefully planned with the help of our training provider Future Games.
Through our unique approach to learning, our sports programmes are created to meet the PE
curriculum with a strong focus on; fundamental movement skills (agility, balance and coordination) and a holistic approach to develop the child through their social, personal, cognitive, creative and physical skills.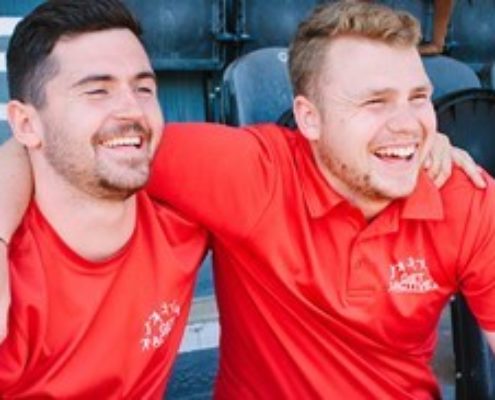 Get Active Sports are a leading force in childcare and education.
Our Staff
We pride ourselves on the calibre of our staff; they receive three surprise assessments every term and are trained once a month to ensure that they maintain high standards of teaching.
All schools and parents seeking an outside partner will want to be assured that they are getting the best possible service.
Each member of our team is trained to exceptionally high standards and have years of experience in delivering high quality coaching.
Recognised National Governing Body (NGB) Level 2 Coaching Certificate in a sport
Hold the IDTA Teachers qualification or are working towards their Teachers qualification
Fully Qualified Teachers (QTS)
NVQ Childcare Level 2
Safeguarding and Protecting Children Certificate
Enhanced DBS (CRB) Clearance
Emergency First Aid Certification
We also ensure that our coaches are made aware of changes and developments within the sports coaching industry.
Each term, we require a completed quality control form to ensure that our clients are satisfied with our performance. We also have internal Ofsted assessments for our staff to ensure they keep the high quality delivery for every school. All curricular staff are at degree level minimum in a sport or teaching field with experience in providing high level PE lessons as PE Teachers, PE Coordinators or PLTS meeting all strands of the National Curriculum.
By employing over 50 highly qualified coaches, we can guarantee minimal disruption to sessions in the event of absent members of staff.
Every school is provided with an information pack that includes all risk assessments, CRB details, child protection policy, club registers, spare club letters and a plastic wallet to store any returned forms and payments.
Making A Difference
As a company we pride ourselves on making a difference to a childs life and helping schools improve their funding.
There are numerous studies into the positive effect that extra curricular school clubs have on children; improved attendance, higher grades, better social, emotional and behavioural skills are proven results.
A recent study funded by the Nuffield Foundation on over 6,400 children born in 2001 reported the children who attended after-school club on one or two days per week had made significantly more progress than expected. Those who attended one day per week had, on average, a 1.7 point higher actual Key Stage 2 score than predicted based on prior attainment and circumstances, while those who attended after-school club two days per week had on average a 3 point higher actual point score.
The results found that after-school clubs bridged the gap between rich and poor, as children from disadvantaged homes participated to the same extent as those from affluent ones. However, when assessing the impact of out-of-school activities such as membership of sports clubs, private tuition or music lessons the report found inequalities persisted.
Another barrier to community-based, as opposed to school-based, activities may also be to do with the scheduling of activities in afternoons and the difficulties getting to and from and the travel time.
The recent Budget announcement to direct money raised by the tax on sugary drinks towards funding sport and after-school activities suggests policymakers are recognising the wide-ranging benefits of these activities.
The Pupil Premium allows schools to offer wide-ranging support, including out-of school clubs to help all children enjoy the benefits of an active lifestyle.
From September 2017 the Government have announced an increase from £160 million per year to £320 to help schools support healthier, more active lifestyles. This funding will enable primary schools to make further improvements to the quality and breadth of PE and sport they offer. 1,600 schools will also receive funding to ensure more children have a nutritious breakfast as a healthy start to their school day.
Funding for secondary schools has also been announced, allowing schools to extend their school day to offer a wider range of activities to pupils including more sport.
What We Offer
Apprenticeships
Sports Coaching apprenticeship will give any aspiring coach the foundations to continue a career in sports coaching. Each apprentice is placed working within our primary schools development programme. An apprentice coach will also run sessions within our PE Delivery, after school clubs and holiday Multi Sport camps. Working full time within primary schools will give you industry specific qualifications, valuable coaching hours and work experience providing a platform for a career in football / coaching industry.
NVQ Level 2 Diploma
This course is suitable for those who wish to pursue a career within the fitness industry as P.E teacher or a career in sports coaching. Enthusiasm to teach others is more important than concentration on the individual's own fitness level. Regular participation in classes and attending the gym is essential for those who wish to achieve a Qualified Instructors Certificate. On successful completion of this qualification you can then progress onto the BTEC Level 3 Extended Diploma in Sport Development, Coaching and Fitness, NVQ Level 3 in Community Coaching or Supporting the Delivery of Physical Education and School Sports. Personal Training or full time work in the fitness industry.
Football Academy
(Btec Level 3 Sports & Extended Diploma)
This course is designed for learners who wish to progress within football and education. This course leads onto University in the UK and USA or simply build on their studies of sport and develop their understanding of the sport, leisure and coaching sector. Students build on their work experience in year two by carrying out a work placement of 10 days duration at an approved sports facility or placement.
You will study 8 mandatory units:
Principles of anatomy and physiology
The physiology of fitness
Assessing risk in sport
Fitness training and programming
Sport coaching
Sports development
Fitness testing for sport and exercise
Practical team or individual sports
There are also 11 specialist units. These cover a wide range of aspects from nutrition, sports injuries, officiating in sport, sports psychology, work experience, organising sports events and physical education and young people.
PROGRESSION
University
USA Football Scholarship
Full time work in the leisure industry