Promoting CPD
in Sport and Fitness
Promote Your Organisation
Careers in Sport has become the go-to website for young people to review the diverse range of job and training opportunities in the sport and fitness sector.
Established in 2008, Careers in Sport provide a suite of online marketing, advertising and cost-effective recruitment services for organisations looking to promote their jobs, services, courses and events in the sports and fitness industry.
Every week, thousands of sport/fitness enthusiasts visit our website to research Career Professional Development opportunities in the sports business, coaching, media, science and health and fitness sectors.
As such, Careers in Sport is the ideal vehicle for you to promote your offering to a highly targeted market.
Over 80,000 followers on social media
Top 3 ranking on google searches of: careers in sport, jobs in sport, sports careers, sports media
Over 750,000 page views a year
Over 200,000 visitors a year
Links on 100s of college and university websites as well as BASES, Youth Sport Trust and Pearson.
Key resource for the BTEC Careers in the Sport and Active Leisure Industry qualification

(15,000+ students 2020/21)
Promoting Job and Training Opportunities in Sport and Fitness
An individually branded page in our directory to promote your organisation. This central page becomes the hub for all your promotional and advertising activities. Organisations use their Careers in Sport directory page to promote their services, provide contact details, website and social media links for people to make contact.
Articles on our website and newsletter
Our news page is one of our most popular features and promotes the latest events and developments in the sport and fitness industry. During the first 12 months Careers in Sport will publish up to 6 articles, supplied by you, in our news section and all will also appear on the homepage of our website, newsletter and social media channels.
Monthly promotion on LinkedIn
Our LinkedIn page has over 70,000 followers and every month, for the first 12 months, we publish an exclusive post to promote and link to your directory page.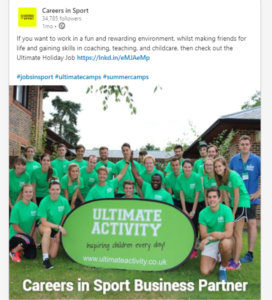 12-month Promotional Packages